Kyle A. Branson has practiced law since 2006. He is licensed in both Missouri and Kansas State Courts, as well as the U.S. District Court, District of Kansas and the U.S. District Court, Western District of Missouri. He is a member of the Missouri Bar Association, the Kansas Bar Association, the Kansas City Metropolitan Bar Association, and the Kansas Association of Criminal Defense Lawyers. Kyle was selected to the 2014 Missouri & Kansas Super Lawyers "Rising Stars" List. The "Rising Stars" list is comprised of the top 2.5% of Lawyers in each State, and you must be under 40 with less than 10 years of practice to be eligible. Selection for this list is based largely on peer review. In 2013, Kyle was selected for inclusion in The National Trial Lawyers: Top 100 Trial Lawyers, and The National Trial Lawyers: Top 40 under 40.
Kyle obtained Bachelor of Science and Bachelor of Arts degrees in political science at Truman State University in Kirksville, Missouri where he graduated Cum Laude in 2003. He received his Juris Doctorate degree from the University of Missouri – Kansas City in 2006.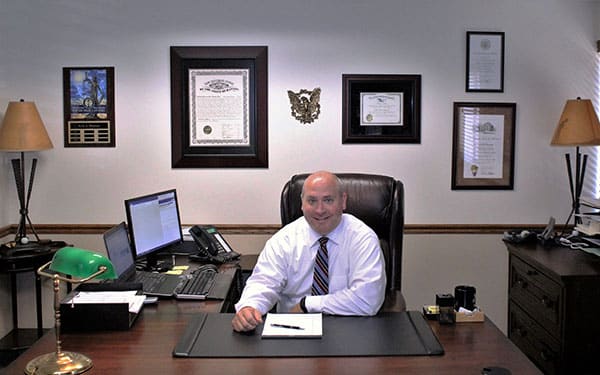 PERSONAL INJURY/ WRONGFUL DEATH/AUTO ACCIDENTS/SLIP AND FALL
Kyle's practice has focused primarily on personal injury, civil and criminal litigation. Kyle's civil experience includes: personal injury litigation, products liability, construction litigation, violations of the Missouri Merchandising Practices Act and Kansas Consumer Protection Act, fire damage cases, contract disputes, landlord/tenant disputes, workers compensation claims, divorces, paternity cases, child support issues, and orders of protection.
Kyle has appeared hundreds of times in courts throughout western Missouri and eastern Kansas on a wide variety of issues. He has successfully taken a number of cases to trial – including several jury trials – and has assisted on many more. Kyle has also personally written approximately 10 Court of Appeals briefs, and most recently, co-authored a brief for the Kansas Supreme Court. The appeal before the Supreme Court was one of first impression in the state of Kansas involving civil liability for improper loan and use of an automobile, and the Supreme Court found in favor our client. (See Martell v. Driscoll, et al., Docket No. 106429)
Kyle has personally effectuated numerous settlements of cases, including several six-figure cases, and has assisted on seven figure cases as well. The bulk of Kyle's present caseload is focused on civil litigation and he takes satisfaction in knowing he has helped clients with a wide variety of issues.
In November of 2014, Kyle also argued a case to the Kansas Court of Appeals.
CRIMINAL DEFENSE – DUI/DWI/OUI – TRAFFIC INFRACTIONS
Kyle's criminal experience includes representing clients on a number of criminal matters ranging from minor traffic infractions, such as speeding tickets, to more serious matters, including felony DUI/DWI/OUI cases. Kyle's broad criminal experience has also encompassed the representation of those whose driving privileges have either been restricted or suspended and his efforts have produced success in the re-establishment of many clients' driving privileges.
Kyle co-authored the brief in the case No. 104,271, which was an unpublished decision handed down by the Kansas Court of Appeals on February 25, 2011, affirming the decision of the Douglas County District Court granting a motion to suppress, which led to a dismissal of the charges pending against our client.
Kyle grew up in central Missouri, but has lived in the Kansas City area for more than ten years. He is a member of Legacy Christian Church and participates in a number of church activities. In his free time, Kyle enjoys spending time with his family, traveling, reading, and spending as much time as possible outdoors. He is an avid golfer, and also enjoys target shooting, fishing, hunting, and mountain biking.