Michael received a Bachelor of Science in Business Administration from Baker University and earned his Juris Doctorate from Washburn University School of Law. Michael tried his first jury trial prior to his third year at Washburn University under a temporary license to practice law. Michael's primary areas of practice include criminal defense, appellate law, and personal injury. Michael is licensed to practice in Kansas and Missouri State Courts, the U.S. District Court of Kansas, and the U.S. District Court Western District of Missouri. Michael regularly appears in Municipal Court as well as District and Circuit Court. Michael has also appeared before the Kansas Court of Appeals and the Kansas Supreme Court.
Michael is active in the Kansas and Missouri State Bar Associations; the Leavenworth, Wyandotte, and Johnson County Bar Associations; as well as the National Association of Criminal Defense Lawyers and the Kansas Association of Criminal Defense Lawyers. Michael is a member of the National Trial Lawyers Association and served as Treasurer on the Board of Directors for the Leavenworth County Bar Association for eight years.
On October 2, 2012, Michael was selected as one of the top 100 trial attorneys from the state of Kansas by the National Trial Lawyers Association.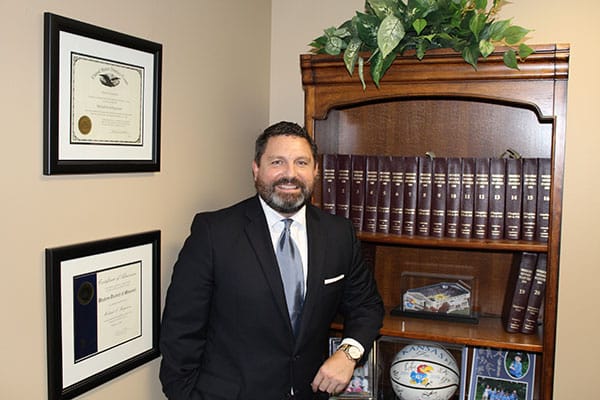 DUI/DWI/OUI/CRIMINAL DEFENSE
Michael handles cases involving high-level felonies, DUI/DWI/OUI, and minor traffic infractions. With more than a decade of experience as a Municipal Prosecutor and a defense attorney, Michael has been involved in countless criminal trials. Michael was selected by Law & Politics as one of 10 attorneys listed in the 2008 Missouri & Kansas Rising Stars (Top Attorneys Under 40) in the, "Criminal Defense," category, which was featured in KC Magazine.
Michael litigates the majority of Mogenson & Branson's civil administrative appeals cases in Kansas District Courts, as well as Missouri Circuit Courts. An administrative appeal may be taken when a client is in danger of losing his or her driving privileges due to an adverse ruling by an administrative agency. Michael has experienced a great deal of success defending these matters and has assisted numerous clients in retaining their driving privileges.
A STRONG RECORD OF SUCCESSFUL LITIGATION AND APPEALS
Michael tried and won an administrative appeal trial in the Circuit Court of Clay County, Missouri. The judge found in favor of his client and set aside the revocation of the client's driving privileges issued by the Missouri Department of Revenue. While it is not always the case, in this matter, Michael's civil victory led to a dismissal of the criminal DWI charge against his client.
In another recent case, Michael led the Mogenson & Branson, LLC litigation team in a DUI jury trial in Johnson County, Kansas District Court in which he won a not guilty verdict for his client.
On November 15, 2011, Michael appeared with Ed Gillette, and argued a case on Fourth Amendment search and seizure issues before the Kansas Court of Appeals. On May 5, 2012 the Kansas Court of Appeals issued a published decision (No. 106, 152) reversing the District Court and ordering that the case be remanded with direction to grant the motion to suppress the traffic stop, which the District Court had previously denied.